For some people seeing your partner at the altar for the first time is a tradition they want to uphold.  It can be a truly meaningful experience you want to share with your guests.  But over the past few years, it has become just that, a thing of the past.  Nowadays a "First Look" is the way to go.  But a lot of people get caught up in how un-traditional it is and don't give it a shot in their planning.  
What is a First Look?
A first look is a special moment between the couple, where they see each other for the first time BEFORE the ceremony.  It can happen with your bridal party and immediate family watching over.  Or as I recommend, just between you two….and of course the photographer to capture every second of it.  There are so many reasons why I think it's a great idea to have a First Look on your wedding day, from more time with your guests, to less stress to get photos done.  So let's take a look at my top 10.
All the reasons to have a first look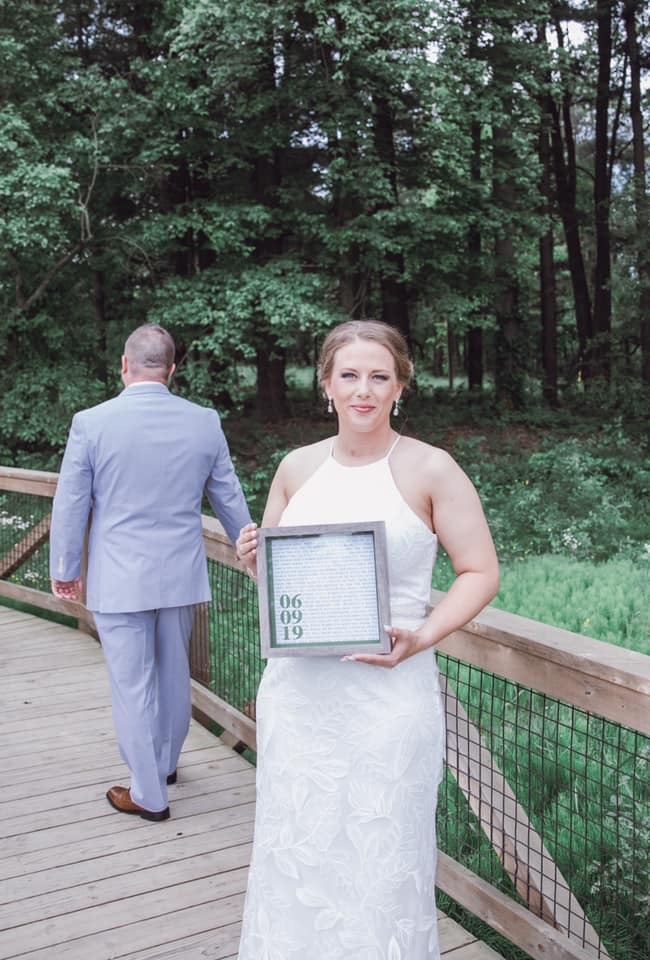 10.)  You get the most out of your photographer.  With a first look, you get MORE photos!  Your photographer is able to take the time to take more photos then they would be able to if they only had the cocktail hour to do so.  Why not get more photos for your money?
9.)  You can have your pictures taken anywhere you want.  You can even have your pictures taken at multiple locations before the ceremony starts.  Let's say your heart is set on getting photos by the lake but there's just no time to get there between the ceremony and reception.  Enter the First Look.
8.)  Daylight.  Yep, lighting is a perk of a First Look.  If your ceremony starts in the afternoon, and your photos are being done afterward, you are now racing the light.  If you do your photos before, you get beautiful natural light that isn't fading.  It can completely change the look and feel of your photos, just ask your photographer.
7.)  Walking down the aisle can be nerve-wracking.  Am I going to trip?  Is my veil on straight?  Am I smiling too much?  Not enough?  Did my parents get to the right seat in the front?  Am I giving the right reaction to seeing my partner for the first time?  Am I doing this right?  I've personally had a groom that was so nervous to give the right "reaction" that it completely calmed his nerves when they decided to do a First Look.  The stress of "getting it right", all 30 seconds of it, can sometimes get in the way of enjoying it.  A First Look gives you the opportunity to control the situation and not feel the pressure of all of your guest's eyes on you.  And by the time you walk down the aisle, your jitters will be gone, and you can truly enjoy the moment.
6.)  You are guaranteed to capture "the look".  Capturing the first time your partner sees you during the ceremony is really difficult.  There are so many variables.  And if you only have a single shooter, who are they going to focus on?  Having a first look means that THE shot is going to happen.  Everything is set up and planned.  The photographer can get the perfect angle, leading to the perfect shot.
5.)  You get time alone.  So often is the case that things are timed so that there is very little breathing room for the couple.  You don't want to keep your guests waiting, right?  So you rush from one thing to the next, getting pulled and pushed in multiple directions.  With a first look, you get those moments alone, together.  Probably one of the only moments you will get alone together until the day is done.
4.)  It gives you more time for photos, plain and simple.  Traditionally photos happen during the cocktail hour.  That means your photographer has about 45 minutes to get all of your photos done.  And that's if you are having everything in one location.  If there is traveling involved you now have to figure that time in there too.  A First Look is planned to give you 2-3 hours to take photos.  That also means you can have more FUN taking your photos.  Who doesn't like having FUN?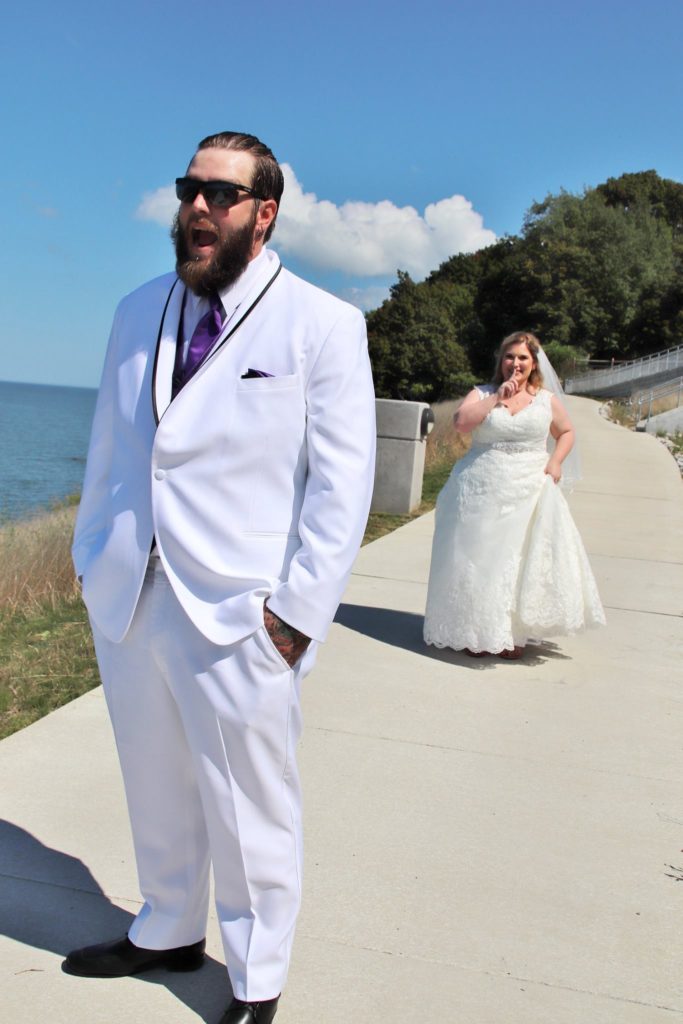 3.) Cocktails and Mingling.  With all of the photos out of the way, you can actually enjoy your cocktail hour mingling with guests and thanking them for attending.
2.)  There's time to relax before the ceremony.  Yes, sometimes it can mean an earlier start time, but when you are done with your first look and initial photos, you can relax again.  Enjoying the entire day together with some close friends.
1.)  Your ceremony will start on time.  With my couples, I always add in extra time for those "running late" moments.  Add into that your First Look, and you'll be sitting around waiting for your wedding to start.  It really comes down to the first look, and of course my amazing time management skills.  But really, a first look gets everything started off on the right foot to run smoothly and on time.
So there you have it.  It still may not be your cup of tea, but at least you took the time to consider it.  And maybe if we sit down and chat about it in person, I can help ease any more fears you have about it.  Contact me now and let's set up a time.