Communicating to your guests that you are having an adults only wedding is not so much about how the wedding invitation is worded, but more so how the actual invite is addressed.
First let's talk about ways that you can include the information within your invitation.  The more elaborate your wording the better.  Most people know that a "luxury hotel" or "famous art museum" are not child friendly.  That being said you can also place the words "adults only", or something similar on the reception cards.
Please join us at an adults-only reception at…….
Children are welcome at the ceremony but the reception will be adults only.
The best when you feel you will get a lot of pushback is to place the blame on your venue choice:
Due to restrictions (or space, etc.) at the venue, children under the age of 16 will not be permitted.
One more way to get the information to your guests is to include it on your wedding website.  That way it's not on your invitations but the information is available for people to see.  Also making sure your immediate family and wedding party are aware so that they can field those questions from guests as they come up.
Really the item you should be focusing on is the envelopes.  When addressing your wedding invitations they should be addressed specifically to the people that are invited.
For instance:  Mr. and Mrs. Mike Jones.
To back that up you can add special wording to your response cards:
We look forward to celebrating with you!
____Adults will attend
____Sorry to miss it
Or something that I always recommend to all of my couples to do, is to call out how many seats are reserved for each invitation:
We look forward to celebrating with you!
___Seats have been reserved in your honor
___Adults will attend
___Sorry to miss it
Then when you are assembling your wedding invitations you fill in the number of seats that are reserved.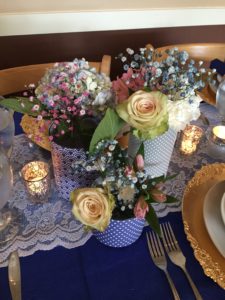 The options I touched on above are the most common ways for people to make sure that their wedding day is for only their adult friends and family.  They may not work for you, and that's ok.  There are quite a few other ways to address this situation and I highly suggest talking to your designer so that they can help direct you as to what would work best for you.
In the end, when you do everything you can on your wedding invitations, wedding website, and have had extensive conversations with parents that want to bring their kids.  You may still have someone that shows up with their child in tow.  It happened to me at my wedding, so I know how it goes.  First thing, take a breath.  It is not the end of the world, it will not ruin this special day.  You picked an awesome caterer that is prepared with extra meals and you have nothing to worry about.  Enjoy your wedding day!
ON A PERSONAL NOTE:  As a wedding planner I have ran into the occasional couple that absolutely refuses to budge on the no children rule for their wedding day.  I ask those people to take a look at a few things before they make a decision.  One, is the person wanting to bring their child extremely important to you?  If so, you need to be prepared for one of two things.  One, you bend the rules and let them come.  Two, they don't come to the wedding.  If you're ok with them not attending the wedding then stick to your guns.
The other thing I ask them to look at is if this person is a new mother (aka under one year old).  I implore you to bend the rules in this situation.  As a new parent, it is EXTREMELY difficult for some to leave their child in the first year, even more so under 6 months, 100% so if the mother is nursing.  A child under one will not need their own food and most parents are aware to remove their child if it is crying or causing a scene.  If you're that worried, you can have an usher take them to specific seats and explain it is for their convenience to be able to remove themselves to care for their child if necessary.  That can get the point across very sweetly.  OK, off my soapbox now.  Thank you.