What is it that you do?
The Wicked Sugar Cake Studio is a home-based bakery located in Perry, Ohio. I make custom order edible sugar art in the form of cakes, cupcakes, cake pop truffles, cookies, truffles and sweet treats. I also custom craft sugar flowers and figurines.
Tell my readers a little about yourself and your history as a baker.
Born and raised in Lake County, I graduated from Eastlake North High School. I've been baking and decorating since I was a junior in high school. I have a wide range of experience in and a deep passion for sugar art. In addition to baking, I'm a wife, mother of one daughter, step-mother of three and grandmother of eight. While I have "caked", I have also worked full-time as a legal secretary, paralegal and just started my 27th year as the elected Fiscal Officer in Perry Township and do the same job at Perry Public Library.
Why did you choose to do what you do within the wedding industry?
I love my part in the wedding industry, the sugar art, because I love to produce beautiful, fun and tasty edibles!!
What trends in the wedding industry are you loving right now?
I love the inclusion of color, DIY personal touches, beautifully different cakes
What is your favorite thing about your job?
Setting up a cake, the final view – I love to see them all put together!
What would be the most common mistake couples make when it comes to your business?  (i.e. booking late,etc.)
Not being realistic with budgets and resources to accomplish weddings of their dreams.
           
What is your ideal day at work?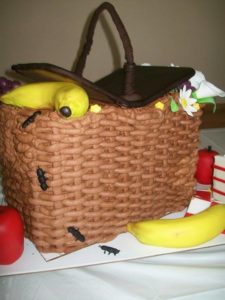 Waking up in the morning with nothing but a bowl of buttercream and fresh cake and turning it into something beautiful!
What is your ideal day off?
A long, slow day at the beach or front row at a Hall and Oates concert!!
Describe yourself in 3 words.
Detailed, customer-oriented and precise
Who inspires you and why?
Sylvia Weinstock – she's an amazing sugar artist and is the whole package when it comes to cake. She knows what she wants taste and design-wise and gets it done!
What are three things you cannot live without? (Not including humans and pets)
Coffee, my daughter and music.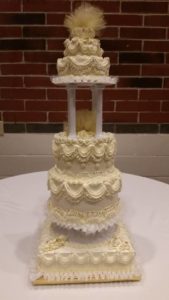 What are you reading, listening to or binge watching right now?
Music – Maroon 5, binge watched PBS' Victoria
What is your favorite thing to do, or place to go, in the Northeast Ohio area?
Headlands State Park beach
What would you tell your 16 year old self if you could?
Don't be in such a hurry to be a grown-up!
What is your favorite dessert?
Dark Chocolate Stout Cake with chocolate buttercream
What is your favorite drink (alcoholic or non)?
El Mayor Tequila
Thank you so much to Chris for taking the time to answer some questions.  If you would like to reach out about all of the delicious desserts please do so at:
www.TheWickedSugarCakeStudio.com
Phone:  440-487-8101
Email:  Goodies@TheWickedSugarCakeStudio.com
Instagram:  @thewickedsugarcakestudio
Facebook:  www.Facebook.com/CakeStudioOhio