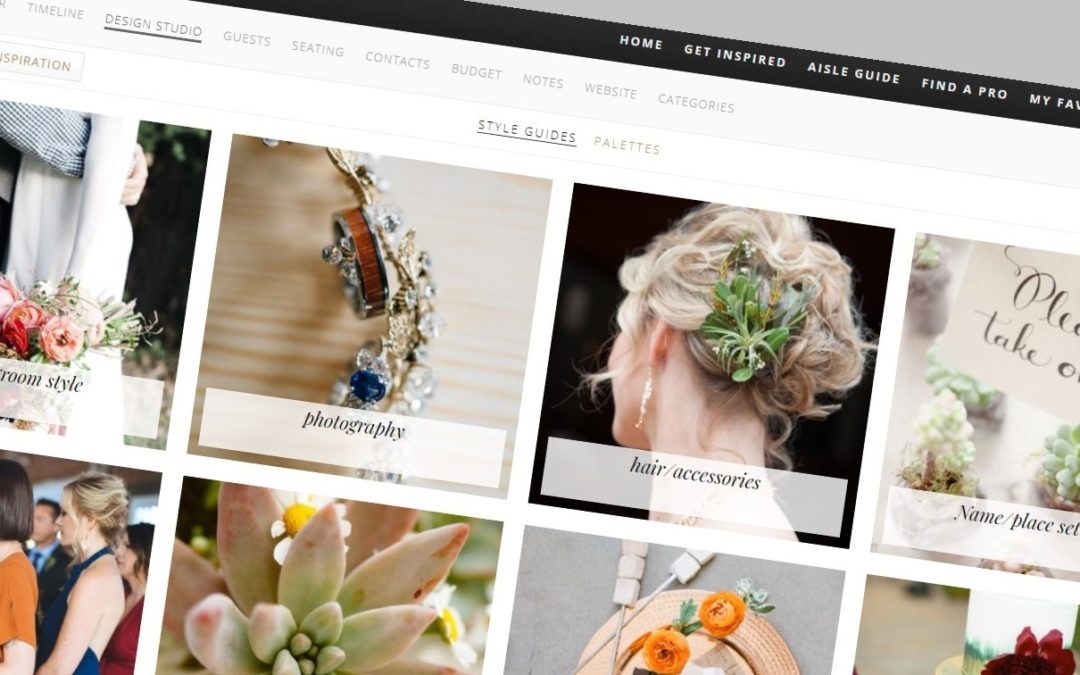 I'm not going to sugar coat it.  Wedding planning can be overwhelming.  Along with all the decisions you have to make, there are all those parts you have to keep organized to make sure everything is covered and nothing is forgotten. Keeping your wedding planning process as streamlined as possible is so important to me.  What better way to do that than with an
online planning portal
that both you and I can collaborate on together. It is completely customized based on your needs and is user friendly.  It will help keep everything together and easier to manage as you plan your wedding day.  This planning tool is
included
when you book with me no matter your
planning package
.  Whatever I can do to help you will make my job easier, and make the entire day seamless.
YOUR WEDDING PLANNING CHECKLIST
Whether you have a year to plan your wedding or only 6 months, this customizable checklist will help keep your wedding planning moving forward.  With assignments and comment capabilities, all communication can be focused on the task at hand.  Check things off as you go and watch as your completed percentage increases with every checkmark.  It's quite satisfying.

YOUR CALENDAR
As you plan your wedding you will have tastings, meetings, fittings, and so many other appointments to make.  Keeping track of your schedule is easy with this calendar.  You can see your appointments, assignments, and even when payments are due.  Plus it is easy to sync to your mobile device for easy access.

DESIGNING YOUR WEDDING
Keep track of and share your inspiration, sketches, and favorite images for your wedding.  You can even create your own color pallet to help guide your choices.  This is something that can easily be shared with important people that are helping with wedding planning.  It's also an option to add your wedding day team members to your project and work together there to bring it all together.

WEDDING GUEST MANAGEMENT
The Guest List tool helps you to keep track of each invitation, all guests information, RSVPs, meal choices, allergies and special requirements, gifts, thank you notes sent….phew. Everything and anything you need to make sure that your guest list is organized.  It also correlates directly with the Seating Tool, but more on that in a second.

COLLECTING ONLINE RSVPS
If you're looking to be economical, you can email RSVP requests to all or specific guests and have them automatically updated on your guest list.  This means less work for you!  You can also use this tool to send general messages and information to your guests.  It's simple to use and helps take your event to the next level of organization.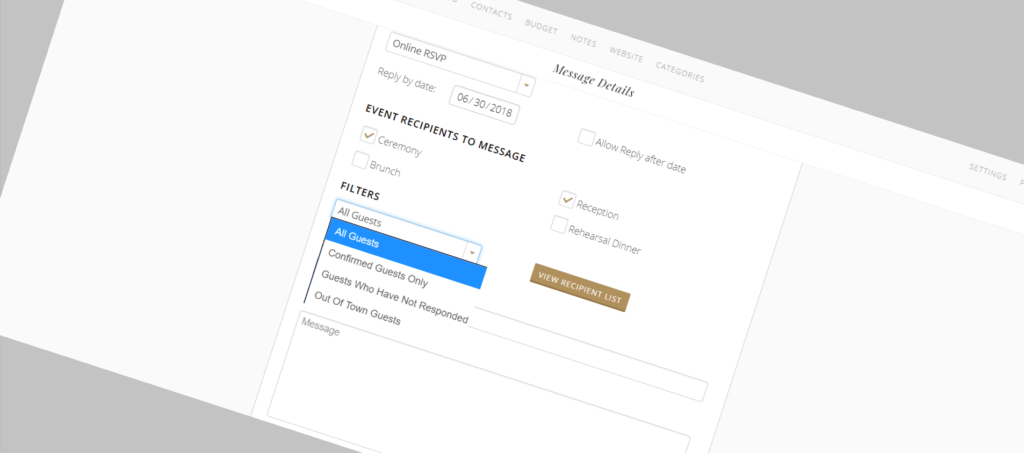 WEDDING GUEST SEATING TOOL
I know a lot of people hate the idea of having to make a seating chart.  But it really is SO essential to your guest's enjoyment.  And making a seating chart has never been easier.  Just type in a name to each table and it marks them off on the right, that way you know who has been seated and who hasn't. You can also use the groups feature to see relations and friendships, this helps ensure each table works for each guest.

FLOORPLAN CREATION
This is the tool that I use to easily create a floorplan of your entire event.  It will include all tables and areas for guest enjoyment.  It makes sure that you not only have enough space but ensures the room flows well.  And as you seat guests in the seating tool you will be able to visually see where your guests will be seated.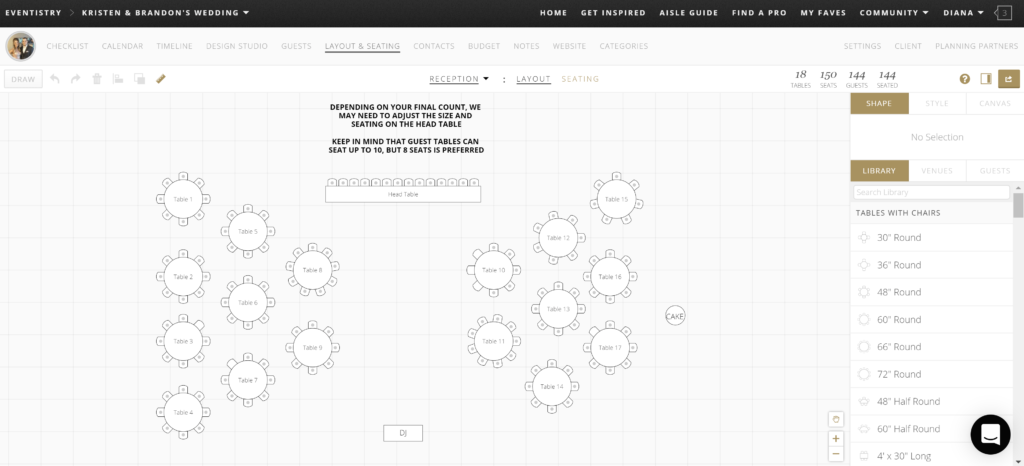 WEDDING DAY TEAM MANAGEMENT
Keep track of all of your hired wedding professionals, their contact information, and important documents.  You can also enter invoices and payments that automatically update your budget.  With reminders as well as when things are due so you are never late on a payment. This is also where I will share with you my recommendations for professionals that I feel will do a fantastic job on your wedding day.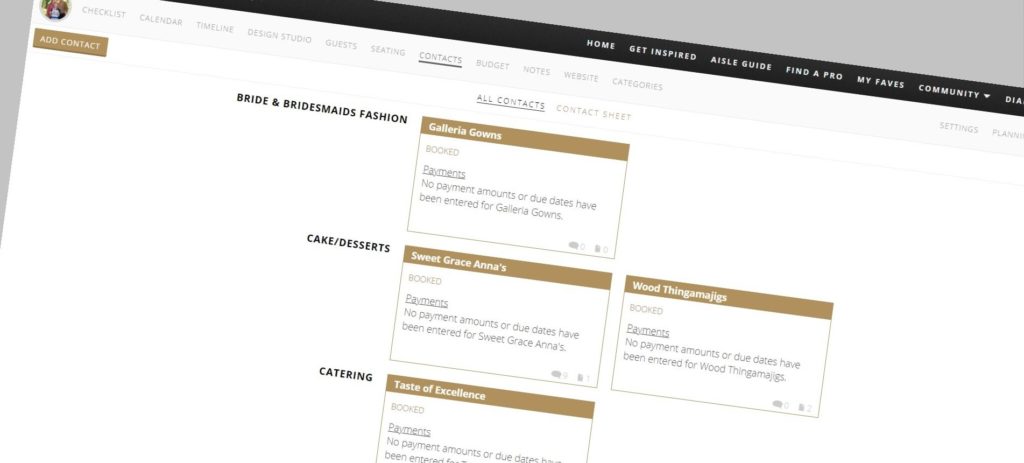 WEDDING PLANNING BUDGET MANAGEMENT
One of the first things you should do, besides creating your guest list, is to create your wedding budget.  It is so important to set that early and stick to it, and the budgeting tool helps you do just that.  Keep track of the money spent and what you have left. It comes preloaded for you with recommended ranges for each category and easily adjusts as you plan so that you can reallocate funds to different ones.

EXTRA HANDY NOTES
Within your notes, you will find places to put all of the finer details, like music lists and packing lists.  I always put in here the important documents for working with me and tips and tricks that can help you along the way with your wedding planning.