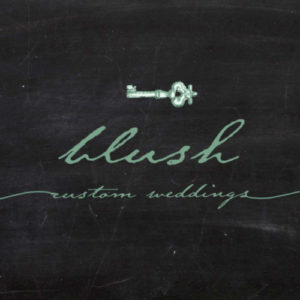 Jessica and I have been brought together to work on a couple's wedding this coming fall.  We met for the first time as we did a walkthrough of the venue together.  Now I have seen some of her work and follow her on Instagram, but it's even better to see her work in person.  I cannot wait to see everything she pulls together.
What is it that you do?
Blush is a wedding and event only floral studio. We design flowers for the ceremony such as Bridal bouquet, Bridesmaids, Groom, Groomsmen, Family, Hair pieces, Altar decor, Aisle decor and have rentals including an arch, urns and pillars. For Reception we design centerpieces, head table, bar, cake and all accent tables. We offer rentals for centerpieces to keep costs down for our couples along with votives, assorted pillar candles, lanterns, vases and so much more! We also deliver and set up at both locations and come back that night to clean up our rentals! So no need to worry about returning items to us.
Tell my readers a little about yourself and your history as a florist.
I was graduating high school and had no idea what I wanted to do. My mother asked me if I would be interested in going to floral school with her. She wanted to buy a flower shop. We have been designing ever since!! She closed her shop 5 years later and I went to a shop owned by a funeral home. We focused on funeral work and everyday work and I was just not happy. I started Blush in 2009 to focus on what I loved to do, WEDDINGS!! Mom now works with me as my second designer. It is so nice to work together and be creative together!
Why did you choose to do what you do within the wedding industry?
Weddings just make me smile, plain and simple! I get goosebumps when my couples tell me how they met and their stories. I just love love. It is so rewarding to bring someone flowers, especially on the biggest day of their lives.
What trends in the wedding industry are you loving right now?
LOVING the natural garden look. Lots of mixed greenery, love the different textures. Soft, romantic blush and golds, mixed metals.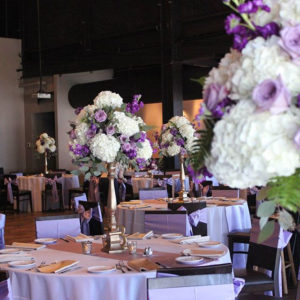 What is your favorite thing about your job?
When the bride sees her bouquet! All the stress of ordering, making sure it is perfect when I get the product in, design time and everything else melts away when you see how happy you just made someone!
What would be the most common mistake couples make when it comes to your business?  (i.e. booking late,etc.)
Booking late. In the past it was common to book your florist last, 3-6 months was typical. Now we are booking 2 years out! Nothing is worse then telling a couple we are already booked for their date.
What is your ideal day at work?
All of my flowers come in fresh and beautiful! Exactly what my couple wanted!!

What is your ideal day off?
Walking on the beach!
Describe yourself in 3 words.
Fun, Creative, Driven
Who inspires you and why?
My mother. She is the most supportive and creative person I know. She has gone through her own battles and came through with flying colors. She is the reason I am a floral designer and has supported me in my career every step of the way. She is an incredible artist, painting, drawing, floral!, upholstery, clothing design…she does it all!!!
What are three things you cannot live without? (Not including humans and pets)
The beach!!!! Fast cars and Pepsi. Ha Ha.
What are you reading, listening to or binge watching right now?
Flash back to the 80s!  I'm on an 80s music kick lately.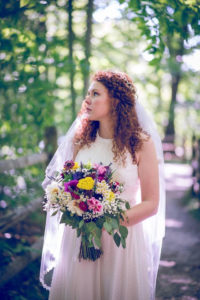 What is your favorite thing to do, or place to go, in the Northeast Ohio area?
I love the outdoors. Finding new trails to walk, new beaches and beach glass and fishing
What would you tell your 16 year old self if you could?
Stay a kid as long as possible. Heck, I still watch cartoons though haha
What is your favorite dessert?
Spanish Flan
What is your favorite drink (alcoholic or non)?
Pepsi!
Thank you so much to Jessica for taking the time to answer some questions.  I look forward to being able to work hand in hand with her in the future, and hopefully you are able to use her services for your wedding day.  She really does beautiful work!
If you would like to reach out to Jessica to talk about her floral services, please do so at:
Phone: 440-319-9002
Email:  blushweddings@hotmail.com
Instagram:  www.instagram.com/blushcustomweddings
Facebook:  www.facebook.com/blushcustomweddings